Discover the Western Suburbs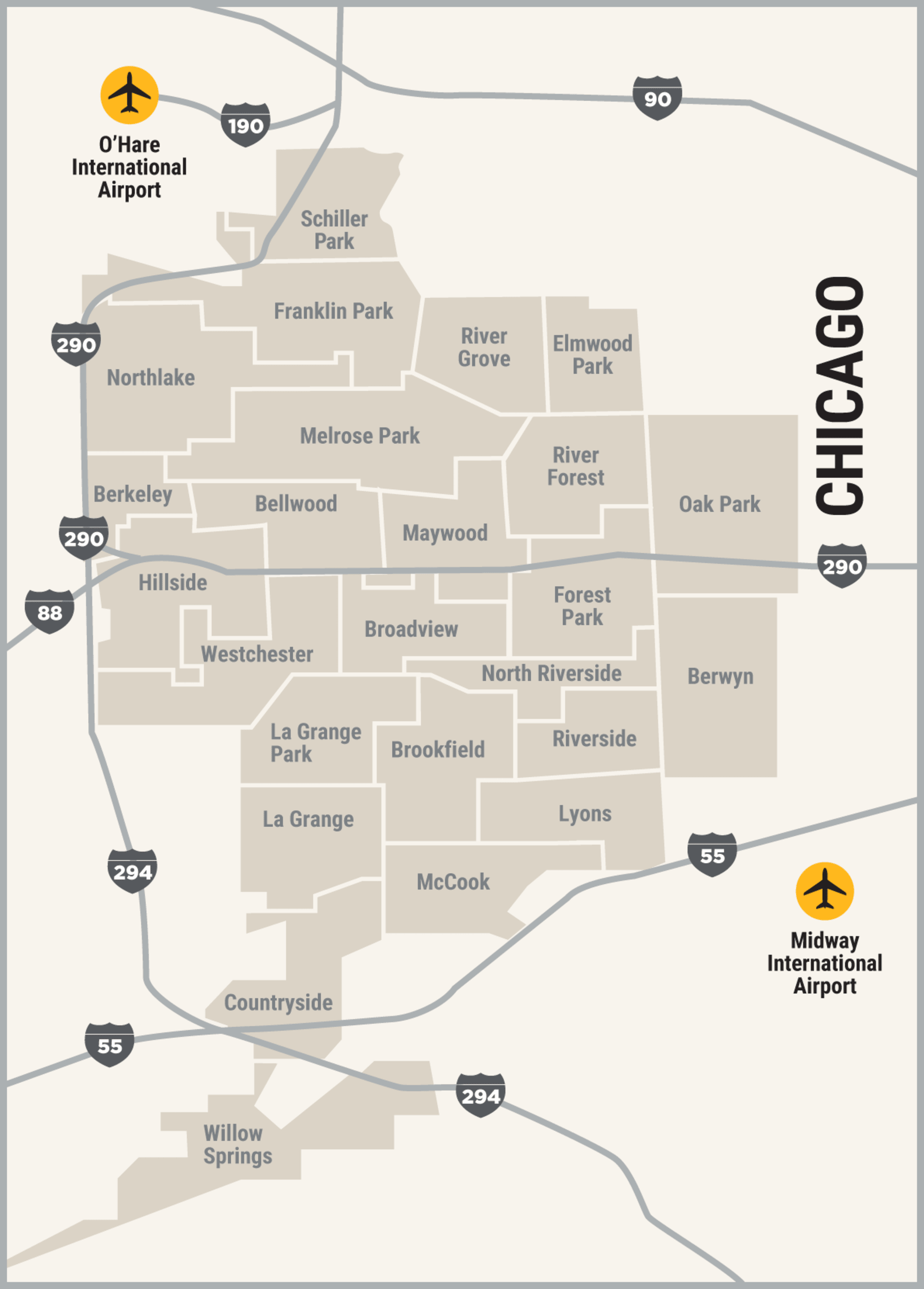 Its prime location – a short drive from Chicago and a mere 13 minutes from O'Hare Airport – makes Bellwood in western Cook County an ideal place to live, work and play. It's a pleasant community of Georgian homes, ranch houses, and brick bungalows that's ideally located for commuting and poised for vibrant future.
Berkeley lies along Cook County's western border. With Interstates 290 and 294 as its western and part southern boundary and commuter railways to the north, Berkeley has access to the entire metropolitan region. These transportation corridors separate the village from its neighbors, creating a charming, small-town atmosphere.

Berwyn sits just west of Cicero, south of Oak Park, to the east of Riverside and the Brookfield Zoo, and north of Stickney. The downtown Depot District thrums and vibes with those who call it home. Berwyn has a world-class reputation for long stretches of Berwyn bungalows, the brick family homes built during the 1920s-1940s.
Broadview retains a small-town vibe despite its proximity to Chicago. It's conveniently located near restaurants, sports arenas, vibrant shopping, and world-class healthcare facilities. Its motto continues to serve it well as it enters its second century: "A Balanced Community – Residential, Commercial, Industrial."

While Brookfield is famously home to one of America's largest zoos, there's much worth discovering in this suburb of Chicago, from outdoor recreation and adventure to family fun, culture and dining. There are great events all year long you'll want to come back time and time again for more adventures.
Elmwood Park sits on nearly 2 square miles, due north of River Forest and just east of Melrose Park and River Grove. The forest preserve on its western border offers trails and paths while its southern border, along North Avenue, is truly "Restaurant Row". You'll find everything from fine dining to sandwich shops.

Forest Park blends small-town charm and urban savvy in western Cook County. Come for the active events calendar and delightful eateries, then stay for vibrant nightlife. It's easy to get to via the CTA Blue Line, or a quick drive on Interstate 290 west to either the Harlem Avenue or First Avenue exits.
Franklin Park still aligns with the vision of its founder, who dreamed of a blend of industrial and residential neighborhoods. Their Park District offers more than 250 programs and has more than 24 acres of parks. Railroads were and remain at the core of Franklin Park's growth over the past century.

Hillside enjoys easy access to where all roads converge. It's located north of Westchester, south of Berkeley, and west of both Broadview and Maywood. The village was incorporated in 1905, adopting its name from a railroad stop called Hillside – the point where westbound trains started going uphill.
Come experience the Village of La Grange. Parts of this vibrant town are registered as National Historic Districts with late 19th century real estate. Retail and commercial business are plentiful in its downtown area. The sidewalks are lined with specialty boutiques, coffee shops, and a wide range of dining options.

La Grange Park has many elements of a Norman Rockwell painting: greenery, front porches, Americana, and small-town charm. There's even a 'Poet's Corner,' a bit of village commemorating the site of an early school. You'll find parks and four-square homes on the southwest with brick houses to the northeast.
Maywood is steeped in architecture and history as its original zoning only allowed for four homes per block. A planned community from its inception, wide streets were laid out, trees were planted, and building commenced along the Des Plaines and on the north side of the Chicago & North Western Railroad tracks.

Recently named by Chicago Magazine as one of the best suburbs for first-time home buyers, and recipient of the Governor's Hometown Award, Melrose Park has much to offer. Fun events are happening all year long! Taste of Melrose Park Festival is second only to the legendary Taste of Chicago in size and variety.
Northlake is one of the youngest west suburban communities. Named after its intersecting main streets, North Avenue and Lake Street, this "City of Friendly People" is a growing, vibrant community ready to welcome you. With another major artery in Wolf Road, Commuters can get to and from Northlake easily.

North Riverside packs a lot of living into its compact, 1.5-square-mile location amid adjoining towns of Riverside, Maywood and Forest Park. To many, it means shopping on a grand scale, thanks to its North Riverside Park Mall and the adjoining shopping center. But there's so much more than brand names and bargains here.
Oak Park has history, galleries, boutiques, restaurants and events to enjoy, for a day or a week. It's a gateway to the vibrant western suburbs of Chicago. When it comes to celebrity, Oak Park has played home to not just one—but two—20th century superstars: architect Frank Lloyd Wright and writer Ernest Hemingway.

Just 10 miles west of Chicago, River Forest sits along the eastern edge of the Des Plaines River. Notable for its many elegant homes, including a number of classic designs by Frank Lloyd Wright. River Forest is primarily residential and includes many community events like the Century-Old Memorial Day Parade.
Unlike many Chicago suburbs, about half of River Grove's land mass is still open space: 350 acres of forest preserve, 290 acres of golf courses and cemetery land, 35 acres for public schools and six acres of parkland. Much of the greenery is due to the Des Plaines River, which arcs through this "Village of Friendly Neighbors."

Only 20 minutes from the Chicago Loop in western Cook County, Riverside today doesn't feel like Chicago, or even Illinois. It's another world: pastoral, green, connected to nature. A day in Riverside takes you back in time to a friendlier era. You're sure to leave with a new perspective on how suburban living should be.
Schiller Park was named for the German singing groups that used to entertain Chicago families who gathered to picnic on weekends. It sits south of Rosemont, north of Franklin Park and River Grove, with Norridge to the east. Conveniently near both Interstates 294, 90/94 and O'Hare, it keeps almost as busy as the airport itself.

Westchester began in 1924, when a London-born tycoon purchased more than 2,000 acres of farmland to create a model English town. It's a quiet residential neighborhood adjacent to green spaces, as well as restaurants, grocery stores, fitness centers, and other retail. It's a short drive to fun attractions like the Brookfield Zoo!
The Des Plaines River valley has long favored Willow Springs as a place of rustic beauty along Cook County's far western edge. Much of what is now Willow Springs was known to geologists as Mt. Forest Island, a large upland moraine left by Ice-Age glaciers. Canal boats used to stop at area springs, inspiring the town name.